PhotoPrime offers straight forward photobooth hire perfect for any event. Covering Leicestershire and the surrounding midlands we can cater for weddings, birthdays, corperate events and any other event that you may want a photobooth for.
What is a PhotoPod?
We call our unique photobooths, PhotoPods.
A PhotoPod is a small and descrete device used to capture high quality photobooth style pictures for any event.
It can be a birthday, wedding, corperate event or anyhting else.
Just add a PhotoPod to capture the fun!
High End Equipment
Unlike other small photo soloutions we use real photography equpiment to capture your pictures, not just a tiny front camera on a tablet.
Our PhotoPods all use DSLRs and Professional Flash units
Space Saving
Our PhotoPods will fit into the smallest of areas. With the choice of operating with or without a backdrop we can position a PhotoPod almost anywhere within your venue. We also have a battery powered system coming soon!
Instant and Free Photos!
Our PhotoPods come with no printers. Instead we instantly upload your pictures to our online servers where your guests can instanly download and share as pictures as want for no additional cost!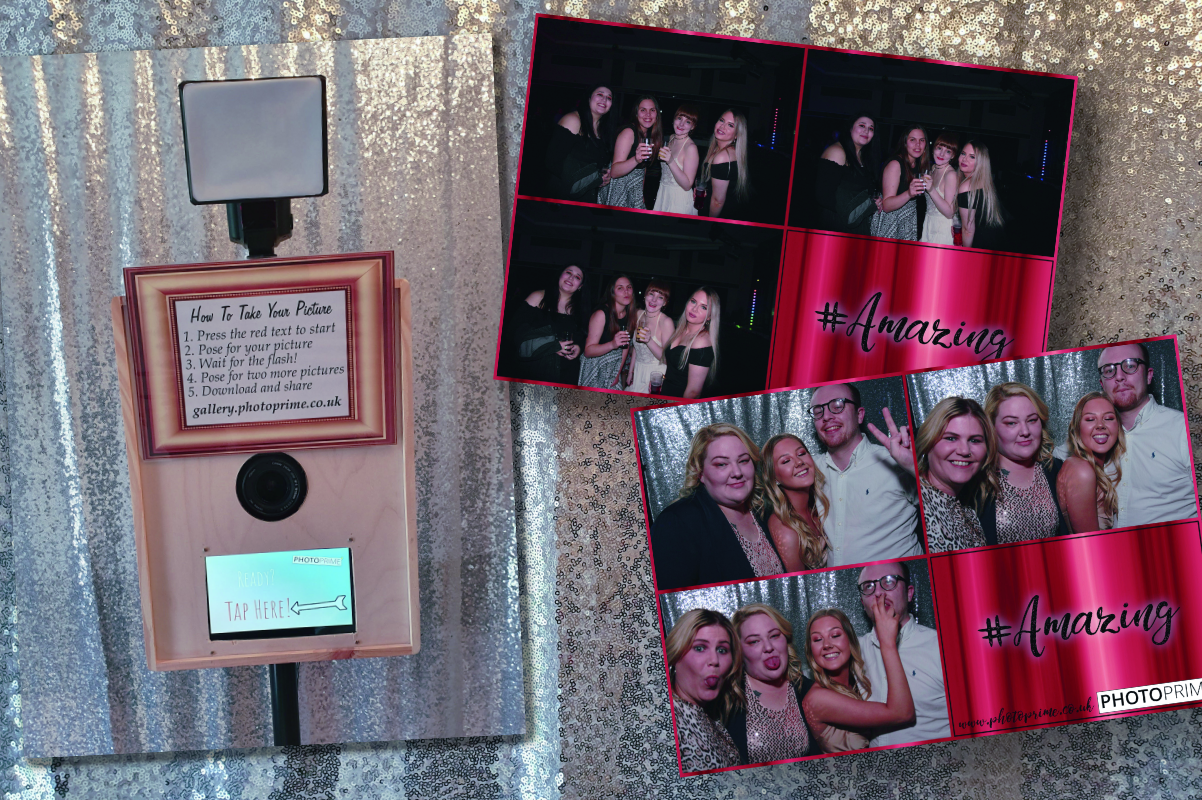 TOUCH SCREEN
All it takes is a simple touch of the screen and our PhotoPod goes to work.
SIMPLE TO DOWNLOAD
Once uploaded you and your guests can access our online gallery using you own phone. You don't have to use an app or enter any contact details. Just snap the QR code or enter the address and you are in. Click the picture you want and simply download or share!
SETUP IN ADVANCE
You choose the photo template in advance and we setup the rest. Once on site the PhotoPod is ready to go!
YOURS TO KEEP
After the event we will e-mail you a file containing all the photos taken. These are yours to keep for as long as you want.
Here is a small sample of the pictures produced by our PhotoPod. You can choose to use a backdrop or to change the photo style.
Pricing Options
Our PhotoPods usually go out as an add-on to our disco hire service over at DiscoPrime however you also have the option to hire a PhotoPod by itself.
We offer different accesory packages to compliment our PhotoPods, Take a look below!
PhotoPod Hire (standalone)
£150
What you get
Evening hire of PhotoPod
We setup and maintain all night
Guests instantly download pictures
Includes basic accessories package
Book Now
photopod hire (disco add-on)
£50
Best Value!
Exclusive add-on price through DiscoPrime
Setup & maintained by DJ
Guests can instantly download photos
Discounted accessory packages
Go To DiscoPrime
Accessory Packages
From £5
Add some Fun!
Basic fun accessories
Wedding/ Birthday specific accessories
Inflatable accessories
Plus many more! Just click below to see the full options…
Take A Look
At an event?
Go to our live download section
The below link allows access to our live download area. View, download and share your pictures now!
Live Download Gallery